When Francine's son was discharged from the hospital after the first year and a half of his life, he had a feeding tube, tracheotomy and was dependent on a ventilator. She talks about caring for her high-needs son, teaching him sign language, and juggling her studies.
"The conversation started, I guess, about January of that year, and he was eventually discharged in July. In terms of planning, everyone talks about going home, but the expectations in the hospital are so much different than what you see when you get home. The nurses at the hospital were like, 'Oh yeah, you will get 24-hour care when you get home. He's really sensitive. He's on the ventilator. He needs nursing and you need help when you get home.' And then we get discharged, and we find out that we're not allowed more than 56 hours per week."
"You have to imagine – we're in the ICU at the hospital for 507 days. We've had 24-hour care that entire time. And then we get home, and the only nursing we have is so that we can sleep. Everything else is our responsibility."
"There's no transitional help, there's no one coming in during the day to actually teach us how to give him a bath. You know, with an open tracheotomy and you're trying to learn how to give him a bath at home. That's huge! When you're in hospital you have completely different equipment. And we were very hands on. We said, 'I want to be suctioning. I want to be doing his care. I want to be doing changes.' There is no one there as back up when you are doing a trach change. It's just you and 911."
"In the hospital, I thought, 'Oh, I am getting the hell out of here!' You know, you don't think about anything else but 'We're going home!' You don't think about what it means to be home."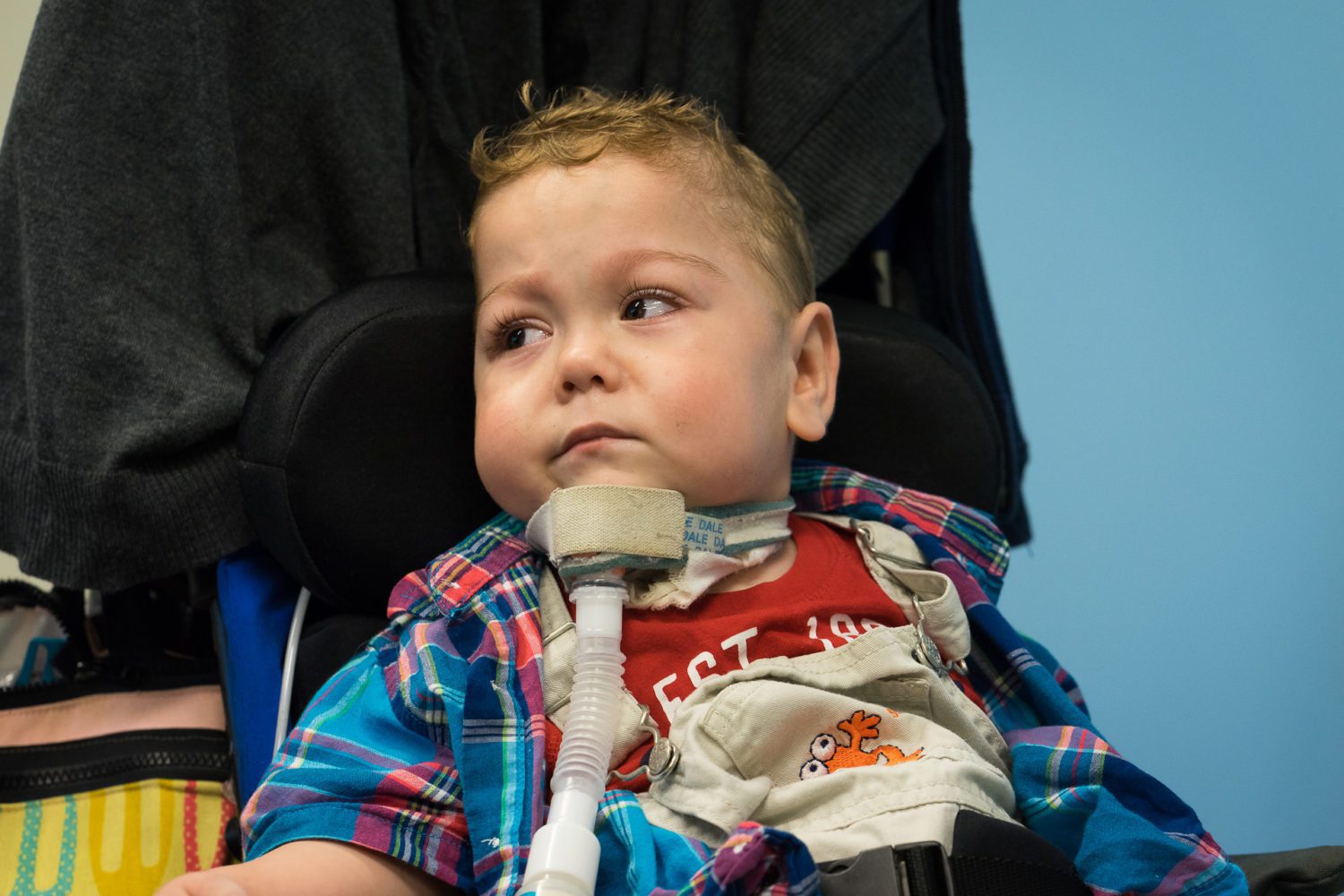 "When we got home, we initially ended up with nursing help for six and a half hours, five nights a week. We were entitled to seven nights but I had to fight for that. I had to contact the Community Care Access Centres and demand that."
"When we first got home, my husband would be working all week and I would be taking care of Cristiano all week. Then we'd have to swap sleeping duties on the weekend because someone's got to stay up with him all night. So, even on the weekend, we're not going to family events, we're not doing anything during the day, we're just swapping sleeping and duties between us."
"We had about eight weeks of resuscitation training in the hospital."
We were shown how to breathe for him with a bag if he stopped breathing, how to do emergency tracheotomy changes. He's turned blue at home a few times.
"We have a bag that we carry with us at all times, that has everything that we need. We carry oxygen. we learned to be a travelling ICU."
We were told in the neonatal ICU multiple times to just literally pull the plug.
"His MRIs didn't show that there was activity, and he probably would not have good quality of life. We had to fight quite hard because we were really, really pressured to not continue with him. But every day we would just see him do more and more normal kid things. Which is actually quite amazing, especially given the number of times he did turn blue. It was so often that if there was a code blue in the NICU or PICU, most people knew what room to run to. So, it's incredible that he is developing the amount he is. He picks up sign language amazingly well, and he's doing most of the things that a kid would do."
"I think we're incredibly lucky. But it makes me kind of sad that these stories don't go back to the hospital. We make a point to go by and visit the NICU doctors. But they don't necessarily see that he's learning sign language. That's the thing that makes me more sad than anything. I think of the next parent who might not have the conviction that we did, to make this fight. The medical team has a lot of power in shaping the expectations parents have about their high needs kids and the decisions they make. I don't think we made the right decision or the wrong decision. It was just the right decision for us."
"You are doing your PhD in health policy and management. Why?"
"I was a business consultant. I used to do information systems for Fortune 500 companies."
"After Cristiano was born, there was no way I could have gone to work."
I couldn't worry that a CEO who was making millions of dollars was upset about something when I had nearly lost my son.
"I needed something I could do from home and I needed something to keep my brain going. And I could see all the problems while I was sitting in the hospital. Something as simple as a chart that the nurses type into was ridiculous compared to the data we were processing for companies. The doctors write free text paragraphs all over the place, but you can't search it. So that's what kind of got me going. So I applied. I got accepted, having no idea how I was going to do it, because he was discharged in July and I started school in September. But we figured it out along the way. We managed. I bring him to my classes. He travels well."
"What's it been like, doing a PhD while also caring for Cristiano?"
"I hate the competition. I'm competing against other researchers for grants, awards and publications. I can't pick up research jobs because no one is going to want to work with me in case something happens to Cristiano and I can't fulfill what's needed. Other students' publication lists are long, and my publication list consists of one thing I am working on right now and that's it. It is kind of frustrating that caring for Cristiano doesn't go on my resume. There isn't really anywhere I can share my experiences in the system or as a patient."
I make this look damn easy. But this is not easy. A regular mom would never take her kid to university. I make this look easy because it's our only option.
"There is no day care that will take him. There is no one in the community trained to care for him or willing to take on the risk of caring for him. We care for our son at home with the same equipment he used in the hospital, just now with fewer supports and services."
"My son means the world to our family. He fought hard to stay with us and we fight for him. Home is the best place for him to be, he has thrived since being home and we are happy he is home. But that does not mean that he is all that different medically than when he was in the hospital. We want our story to be out there so that people know that there is not a clear line between being in the hospital or out of the hospital."